This interview was originally published in Greek by StudentLife
The CASSINI Hackathon competition was held for the first time this year on June 18-20 in 10 European countries. It was organized in Cyprus by the company CyRIC, in collaboration with the Gravity Ventures Incubator and the Eratosthenes Center of Excellence / Teaming EXCELSIOR project and more than 45 hackers with 9 teams participated in it remotely.
The hackers created innovative solutions for the digitization and improvement of green spaces in urban and rural areas of Cyprus, using EU space data and signals. The jury awarded 5 teams, which shared € 10,000 sponsored by CyRIC, Gravity Ventures Incubator and Cablenet .
We spoke with the Parametricos team that won the 1st prize! The team consists of  Marios Messios, Anninos Loizou, and Harry Collin, who created the CityLite platform for designing, analyzing and simulating "smart cities".
See below what Marios told us on behalf of the team:
Your team won the 1st prize at the Cassini Hackathon! How did you feel about this distinction? Describe in a few words the idea with which you participated.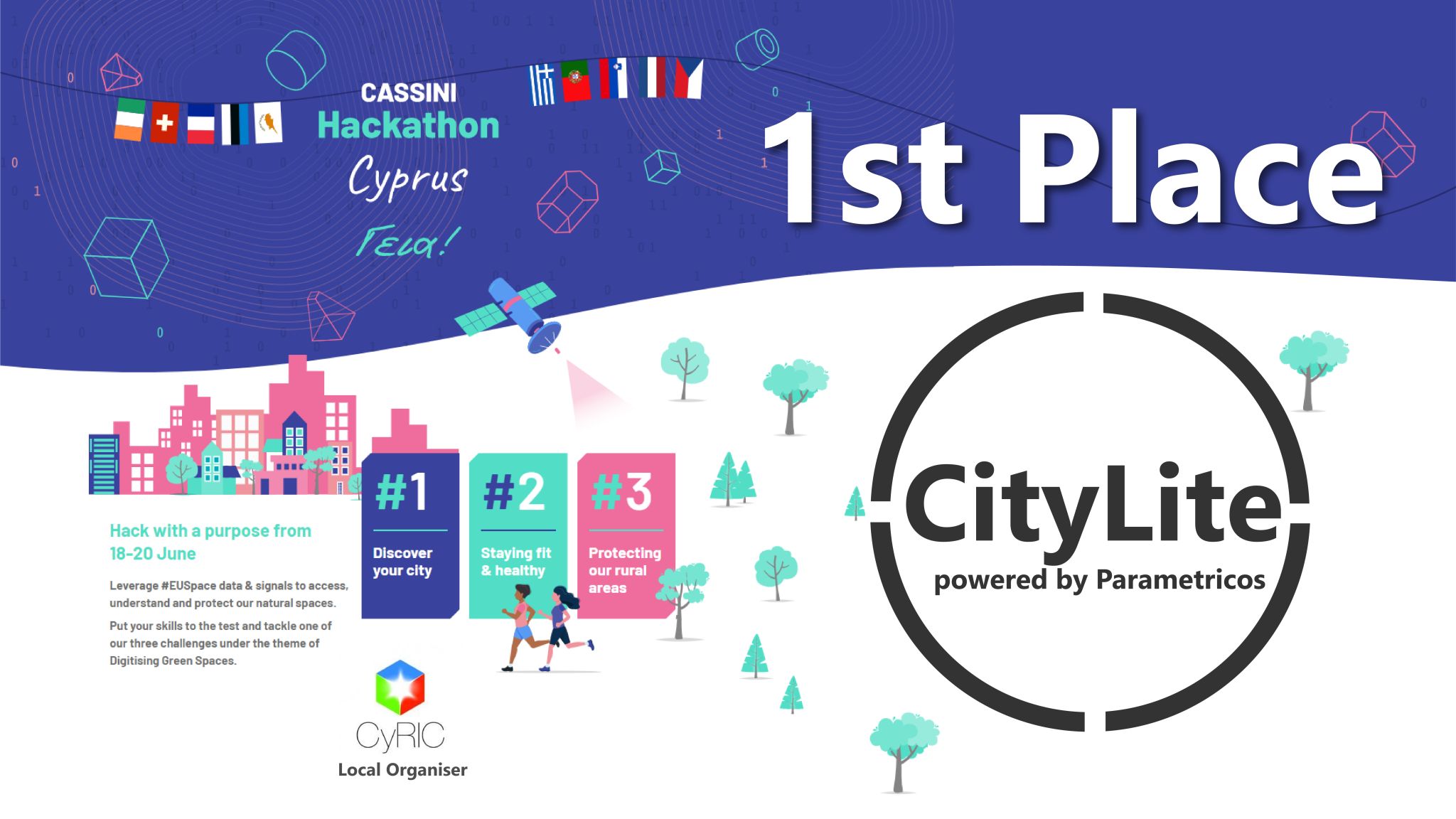 We experienced this distinction with great joy and enthusiasm, since the Cassini Hackathon was held for the first time in Cyprus with the extremely innovative theme "Digitization of Green Spaces" which gave us the opportunity to use our knowledge and experience in the digital field of the construction industry and create a pioneering and innovative idea.
Our team participated in the competition by developing an Open Source software for Smart Cities, called CityLite. The user can collect data from different sources to analyze and simulate different scenarios taking place in a city. The data will be able to come directly from satellite, government and other open source sources to help decision makers, whether at the city or building level, respond to measurable issues and make better decisions, taking into account the surrounding environment.
How did you feel about the whole experience you had at the Cassini Hackathon that was organized in Cyprus?
The whole experience and organization of Cassini Hackathon was excellent. There was continuous communication with the local organizers (CyRIC) as well as the European organizers. Through the competition, we were given the opportunity to work with satellite data from the Copernicus program of the European Union and to explore the possibilities and prospects of this data.
How challenging and how important do you think the theme for "Digitization of Green Spaces" they chose this year at Cassini Hackathon is?
I believe that this year's Cassini Hackathon theme of "Digitization of Green Spaces" is extremely important, given the need for green technologies. At the same time it is quite demanding because there are difficulties in designing an innovative proposal for "Digitization of Green Spaces" that can be at the same time economically viable.Ideas and proposals concerning green development and green technology often have implementation difficulties, and in order to overcome those, cooperation with the state mechanism at many levels is required, which makes the proposals realistically inapplicable.
Nevertheless, it is particularly encouraging to see that in Cyprus organizations such as CyRIC promote events such as Cassini Hackathon with such themes and prove that with the right support we can achieve a change to a better future.
What prompted you and your team to participate in this initiative for "Digitization of green spaces" at Cassini Hackathon?
Our startup, Parametricos, specializes in building software for the construction industry, with the goal of improving the communication and coordination of people working on a construction project and collecting and using data from different sources for more efficient design of these projects. Part of our team's work is the study of the surrounding area of ​​a construction project through geographical data (GIS). For this reason the competition was an ideal opportunity for us to develop this idea of CityLite and implement it on a new and open platform.
As a team, we believe that a construction project should be properly planned and the development of a community / city should take into account the environment, green spaces and parks, densely populated areas, emissions and in general the promotion of ecological sustainability.
How did you use the EU Space data (satellite data) and why is it important for your company / idea?
The European satellite data we used for CityLite, are mainly data from the Copernicus, Sentinel-2 and Copernicus Sentinel-3 satellites, which relate to high-definition marine and terrestrial photographic data, such as vegetation, land and water, indoor and water images. roads and coastal areas.
This satellite data in combination with other geographical data and information from other sources, under the appropriate analysis, can become a very powerful tool in the hands of our users for better and more sustainable design.
Our goal is for the design of a building/city to take into account the community and the environment, and in conjunction with Computer Building Modeling (BIM), to run with fewer construction errors and therefore less material waste and emissions, from production to construction. Following this and by using data from devices and sensors (IoT devices and sensors), laser scanned models (laser scanned models), BIM models, we will be able to  talk in the near future about a perfected smart city platform for everyone.
It is worth noting that CityLite uses open data from various other sources such as maps from Here Technologies as well as open technologies such as Harp.gl, IFC.js and Three.js.
How important do you consider STEM science and the use of data from EU Space for future generations?
I believe that STEM (Science, Technology, Engineering, and Mathematics) and its education is extremely important in promoting critical thinking and innovation, especially in a time when there is a great need for sustainable solutions to global challenges such as the global warming.
Keeping STEM sciences as a basis and methodology, and utilizing data such as EU Space Data, using open source software, geographic data, and BIM design methodologies gives young professionals the opportunity to develop their ideas into innovative proposals, thus addressing a variety of challenges from different industries.
This interview was originally published in Greek by StudentLife